Eagle Application Submissions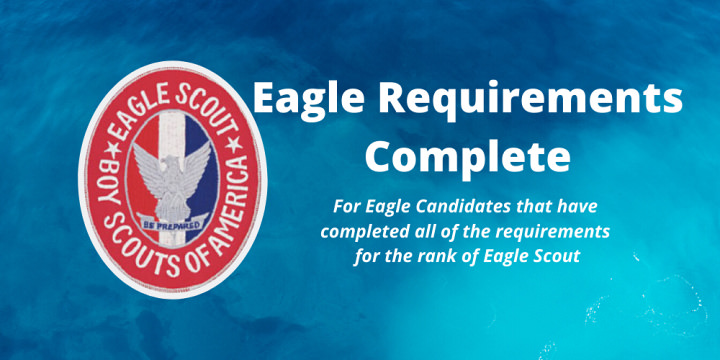 By using this portal you are uploading the documents that are required for the Eagle Candidate to obtain Council certification and eventually the rank of Eagle scout. Documents to upload here are as follows.
Electronic
Eagle Scout Service
Project
Workbo
ok
– We are asking the Scouts to fill in the workbook using Adobe Acrobat Reader and not by longhand. They can then upload the entire workbook after completion in one file. The signature pages can be scanned or photographed and uploaded separately. Scouts who are filling in the workbook in longhand will have to scan and upload the file(s). The binders are not going away. We are asking the Scouts to make a hard copy of all their work, place it in the standard 1" binder and bring their binder to the Eagle Board of review. Often it is easier for the Scout to explain their project from the binder and it is kept by the Scout after the Board of Review for their reference and remembrance of this important step in their lives.
Eagle Scout Rank Application No. 512-728
– This is available already filled out from Scoutbook, Under Reports and Eagle Application. This application must be used when applying for the Eagle Scout award.? If you do not have access to Scoutbook. You must download this file and open it in Adobe Acrobat Reader. Print the application and obtain all needed signatures before uploading, preferably as a scanned PDF document.
Statement of Ambitions and Life Purpose– In preparation for your board of review, prepare and attach to your Eagle Scout Rank Application a statement of your ambitions and life purpose and a listing of positions held in your religious institution, school, camp, community, or other organizations, during which you demonstrated leadership skills. Include honors and awards received during this service.
Photos and Other Documentation- Please submit photos taken before, during and after project completion and any other documentation that might be helpful to your board of review.