Camporee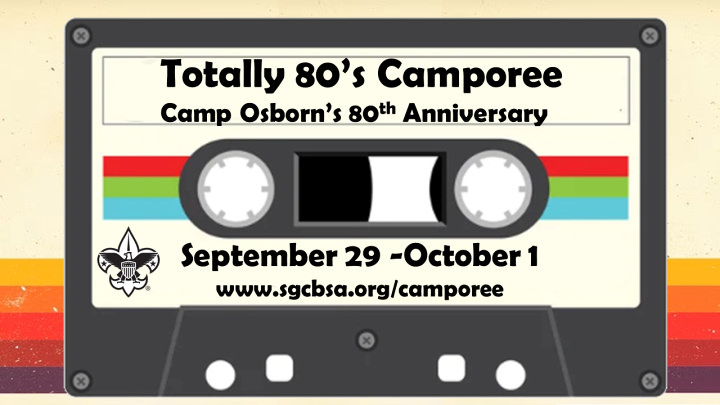 Date/Time:
Sep 29, 2023 5:00 pm to Oct 1, 2023 12:00 pm
Location:
Camp Osborn
480 Camp Osborn Rd
Sylvester, GA 31791

Every year Scouts from all around our South GA Council gather together at our Council Camporee to participate in Scouting activities, compete with each other, meet other Scouts, and most importantly, show their Scout Spirit! We want all our Troops/Crews to attend!
The cost is $20 per scout and $5 per adult.
Friday
4:00 – 9:00 PM
Arrival and Check-In
9:30 PM
Scoutmaster / SPL Meeting
11:00 PM
Taps
Saturday
8:45 AM
Opening Flag Ceremony
9:30 AM – 12:30 PM
Morining Activities
12:30 PM- 1:30 PM
Lunch
1:30 PM – 5:30 PM
Afternoon Activities
5:30 – 8:00 PM
Supper
7:00 PM
Troop Dessert Deadline
8:00 PM
Closing Campfire/OA Call Out
OA Cracker Barrel following Campfire
11:00 PM
TAPS
Sunday
9:00 AM
Scouts' Own Chapel Service
9:30 - Noon
Break Camp and Checkout
To ensure safe traffic flow upon arrival, a one way driving route will be will be set up and enforced. After unloading of equipment at your campsite, all vehicles will be asked to park in an assigned area. There should be no vehicles in the campsites after 9pm Friday night.
Campsites assigned upon arrival to camp.
Dutch Oven Desert Contest
Each Troop and or Patrol may submit a Dutch Oven Dessert to be judged by seasoned
Scoutmasters. Your entry should be presented in their Dutch Oven with troop and patrol identification, a recipe notecard, and cups & spoons for tasting. Desserts are due to the Vulcan Pavilion no later than 6:00 pm on Saturday. Winners will be announced at our Saturday night campfire.
Order of the Arrow Call Out Ceremony
Troops will have the opportunity to conduct OA elections during Camporee if you have not done so already. Details on election procedures will be given during check-in. All candidates chosen by their Troops as eligible for the Order of the Arrow will be recognized in a "Call-Out" ceremony at the end of the campfire.
80's Best Dressed and 80's Skit competion