Order of the Arrow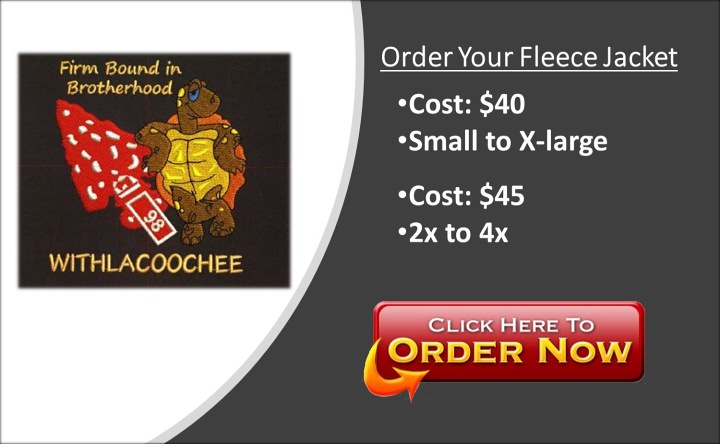 Withlacoochee Lodge
Click to visit the Withlacoochee Lodge Website
All new Arrowmen are strongly encouraged to visit Jumpstart after they complete their ordeal.
The Order of the Arrow
Scouting's National Honor Society
For more than 90 years, the Order of the Arrow (OA) has recognized Scouts and Scouters who best exemplify the Scout Oath and Law in their daily lives. This recognition provides encouragement for others to live these ideals as well. Arrowmen are known for maintaining camping traditions and spirit, promoting year-round and long term resident camping, and providing cheerful service to others. OA service, activities, adventures, and training for youth and adults are models of quality leadership development and programming that enrich and help to extend Scouting to America's youth.
Mission
The mission of the Order of the Arrow is to fulfill its purpose as an integral part of the Boy Scouts of America through positive youth leadership under the guidance of selected capable adults.
Purpose
As Scouting's National Honor Society, our purpose is to:
Recognize those who best exemplify the Scout Oath and Law in their daily lives and through that recognition cause others to conduct themselves in a way that warrants similar recognition.
Promote camping, responsible outdoor adventure, and environmental stewardship as essential components of every Scout's experience, in the unit, year-round, and in summer camp.
Develop leaders with the willingness, character, spirit and ability to advance the activities of their units, our Brotherhood, Scouting, and ultimately our nation.
Crystallize the Scout habit of helpfulness into a life purpose of leadership in cheerful service to others.
The Lodge has developed a great resource for conducting OA Elections in your troop; click here.
---
Become an OA Troop Representative
Job Description, Duties and Qualifications
OA Troop Representative Job Description: An Order of the Arrow Troop Representative is a youth liaison serving between the local OA lodge or chapter and his troop. In his troop, he serves as a communication and programmatic link to the Arrowman and adult leaders and Scouts who are not presently members of the Order. He does this in a fashion that strengthens the mission of the lodge and purpose of the Order. By setting a good example, he enhances the image of the Order as a service arm to his troop.
OA Troop Representative Duties:
Serves as a communication link between the lodge or chapter and the troop.
Encourages year round and resident camping in the troop.
Encourages older Scout participation in high adventure programs.
Encourages Scouts to actively participate in community service projects.
Assists with leadership skills training in the troop.
Encourages Arrowmen to assume leadership positions in the troop.
Encourages Arrowmen in the troop to be active participants in the lodge and/or chapter activities and to seal their membership in the Order by becoming Brotherhood members.
Sets a good example
Enthusiastically wears the Scout uniform correctly.
Lives by the Scout Oath, Scout Law and OA Obligation
Shows Scout spirit
OA Troop Representative Qualifications:
Under 18 years old
Appointed by SPL with SM approval
OA Member in good standing
OA Troop Representative Reports To: Assistant Senior Patrol Leader