2020 Unit Recharter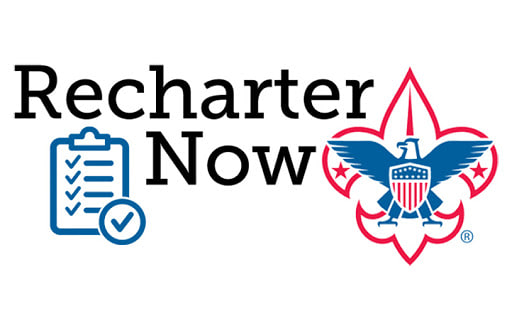 Internet Rechartering
The 2020 recharter season is upon us and the South Georgia Council will be using the online Internet Rechartering module. This method for rechartering makes the whole process easier because you'll be completing the charter renewal information yourself—which ensures that it will be correct—and you can do it from your home or office, anytime that it's convenient for you.
The 2020 membership fee for Packs, Troops, Crews and Ships is $66 for youth and $42 for adults.
Exploring unit membership fees are $42 for both youth and adult participants. $12 for optional Boys' Life magazine.
All adults must sign a background check disclosure including youth who have turned 18. 18 and older applicants must take Youth Protection and turn in a certificate or have a current certificate on file.
Access the internet recharter system here: Internet Recharter
Here is how it works:
The supported browsers are Chrome, Firefox, and Internet Explorer 9, 10, and 11. The system is not compatible with a Mac Computer.
Each unit will need to identify a renewal processor (this is the person that will be completing the online recharter for your unit).
The renewal processor will use the Internet Charter Renewal system to identify returning members, add new members, and verify / update information for all individual; such as, addresses, phone numbers, and email addresses. It is very important that we have updated contact information for each registered leader.
To renew your units charter on-line:
Select a renewal processor. This should be someone in your unit who is familiar with the members and leaders of your unit to ensure all information provided through the process is correct. This person also needs access to the internet.
Your unit will have an access code specifically assigned to your unit. Each unit should have received their access code via email. If you did not receive it, please contact your District Executive or the council office.
Each year you always log in as a first time user. After that you will go back in as a returning user.
When the on-line process is completed, the renewal processor prints the completed charter renewal application and obtains signatures from the Unit Leader (Cubmaster, Scoutmaster, or Crew Advisor) and the Executive Officer sign the charter renewal application (these may be obtained electronically). Once signed, turn that roster, any new applications, any youth protection training certificates and all monies into your District Executive at your districts Recharter turn-in day listed below.
Important Dates To Remember:
November 20, 2020- Recharter paperwork due to your District Executive or the Council Office
ALL LEADERS (New and renewing) AND YOUTH OVER THE AGE OF 18 YEARS OLD MUST HAVE COMPLETED THE NEW YOUTH PROTECTION TRAINING.
Remember, once you have clicked submit, you will be locked out of the system and can no longer access it. Please make sure you have completed all changes and additions before you press the submit button.
Recharter paperwork must be completed online.
Handwritten paper applications will not be accepted. If you need assistance processing your recharter, please reach out to your District Executive.
NOTE: Unit charters must be received by the council office no later than 12/11/20. If they are not turned in by this date and without issues, you will:
Need to cease all Scout meetings and activities because of insurance lapses
No longer be covered on our Accident, Sickness, and Liability Insurance Policies in the case of an accident or incident
Not be able to process rank advancements or awards at the Scout Shop/Office
Not be able to purchase the awards/advancements that have been earned but not reported
| File Name | Description | |
| --- | --- | --- |
| Background Check Disclosures and Authorization.pdf | *Required for all registered adult leaders* | Download |
| Charter Agreement | *Required document* | Download |
| Internet Recharter Tutorial 2020 | Tutorial with step by step assistance for using the Online Internet Rechartering System | Download |
| Pack JTE Scorecard | Turn this in with your recharter paperwork | Download |
| Service Project Reporting Form | Form to submit Service Project informaiton to the council. Online submission is preferred. | Download |
| Troop JTE Scorecard | Turn this in with your recharter paperwork | Download |
| Why JTE Is Important | Information on how JTE can benefit your unit. | Download |